S V Educational Institutions

Managed by S V Education Trust
In the early 20th century education for women was socially unacceptable. During this time of strong opposition to women's education, the trustees of Sri Venkataramana Temple took a bold and revolutionary initiative, to provide education to girl children. They started Hindu Balika Pathashala in 1909. A building for the school was constructed in the year 1911 with the donation from Late Sri K. Subraya Kamath and Late Sri K. P. Subraya Prabhu in memory of Sri Ammembala Subraya Pai Mrs. Graham wife of Dist. Collector laid the foundation stone and Rtd. Dist. Judge S. Raghunathayya inaugurated the building. In 1934 S. V. T. Higher Primary School wa Started. Sri Balkunje Subba Rao donated funds for the construction of the school building. Realizing the need of high school education for the girls, the temple trust started S.V.T Girls High School in 1944. Earlier to this there was only one high school viz. Board high school in Karkala. Sri Balkunje Subba Rao, Sri Balkunje Gopal Krishna Shenoy, Sri Renjala Govardhan Shenoy and Sri K.P. Sheshagiri Prabhu donated funds for construction of the high school building. Gradually as the years went by, keeping up with the changes in the educational system, in the year 1972 the high school was upgraded to women's junior college.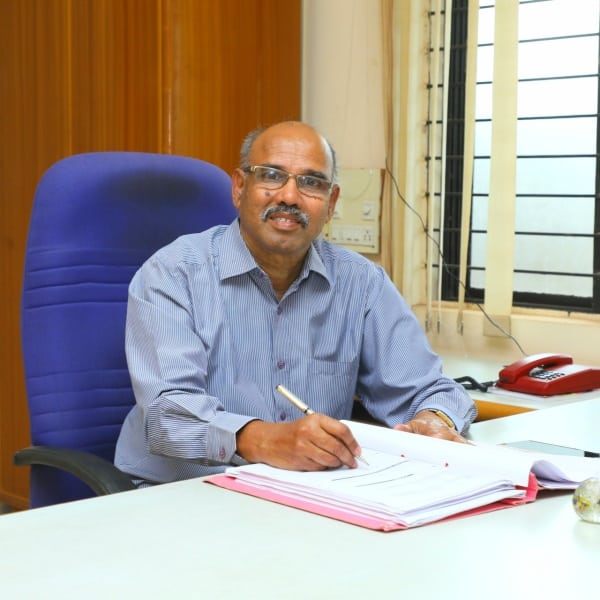 K P Shenoy
Secretary, S V Education Trust
A separate building was constructed to accommodate the pre university classes. Hindu Balika Patashala was the first girls school in the undivided south kanara Dist. and S.V. Women's college started in the year 1988 became the first women's college in Udupi Dist. emphasizing the importance Sri Venkataramana Temple gave to women's education. The college conducts arts & commerce degree courses. To give impetus to its efforts and help growth and efficient management of the institutions the temple trust formed Sri Venkataramana Education Trust in 2009. A grand celebration to mark the 100 years of women's education endeavor of Sri Venkataramana temple was held in 2011. An auditorium with a capacity of 1000 seats and a dinning hall for 300 was constructed to commemorate the event. Later a kitchen equipped with modern steam cooking plant was added. Today, to encourage girl students to pursue their studies, college students are given freeships and scholarships amounting to Rs.2,00,000 and achievers in sports and games Rs.50,000 every year. P.U. College Students are given free ship and scholarships worth Rs.2,00,000/- every year. High school education is free. P.U and degree students are provided midday meal at very concessional rates .
English medium Nursery, Primary and High school was started in the year 2016-17.
The institutionwise strength of staff and students is as follows.
Sl. No.
 Name of the institution
Strength of student
Strength of staff
1
SVT Higher Primary School
Kannada medium
275
11
2
SVT P U College ( High school Section)
120
09
3
SVT P U College  ( P. U. Section)
243
14
4
English Medium Nursery to 10 std
446
22
5
SV Women's College
270
21
The Fee structure is maintained low to make education affordable for lower middle class parents. The Annual budget of all the institutions is Rs. 1,20,00,000/- .
Temple trust is granting Rs. 60,00,000/- to meet the budgetary deficit.
A new building for English Medium school is under construction estimated at about Rs. 3,00,00,000/-. The building comprises of 3 floors with 18 class rooms office and staff room. Each floor is having toilet block for boys and girls.
Another new building for girls P.U. College is under construction MRPL is donating Rs. 40,00,000/- under their C.S.R project.
It is the endeavour of the Education trust and Temple trust to provide quality education mainly to economically backward rural girl students. The expenditure increases year on year the strength of the students also is increasing. There is vast scope for development and opportuniuty to involve in the growth of the institutions.
Temple is contributing Rs. 10,00,000/- every year for the subsidized midday meal scheme.
Sri Venkataramana Temple is an example for religious institutions fullfilling their social responsibilities.
Sri K. Mohandas Shenoy
President
Sri N. Ganesh Kamath
Vice President
Sri K. P. Shenoy
Secretary
Sri I. Ravindranath Pai
Treasurer
Sri K. Sudhakar Kamath
Trustee
Sri Y. Narasimha Shenoy
Trustee
Sri Cholpady Damodar Kamath
Trustee
Sri K. Ganesh Kamath
Trustee
Sri A Ganapathy Hegde
Trustee